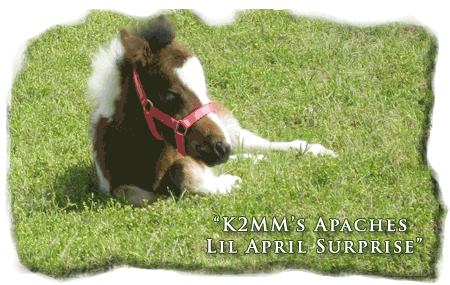 Welcome to K2 Mini Miracles Farm. This site is our journal of the joys of owning and showing minature horses. We welcome your comments and would love to hear of your experience relating to owning, breeding or just enjoying the wonderful world of 'minis'.
Please feel free to use the forums here to discuss topics ranging from show dates, cancellations or just to talk about minis. We provided the forums for you as an incentive to keep in touch with your fellow mini owners and friends. But, most of all, a way to have fun.
---
December 12, 2006
We have posted this very exciting video of Mandy's baby at 18 weeks. Not quite National Geographic's "In The Womb" but, just as real and just as fascinating to see! Go
here
to have a look. This clip has a tremendous view of the head which is briefly highlighted later in the clip. The heart beat is also clearly visible in the extreme lower right corner. I hope you enjoy it as much as we did.
Also, we learned that Storm was ,sadly, no longer in foal. We will try again in the spring or summer.
Welcome to our newest family member "Wonder Horses Awesome Dancer". Be sure and check out her
pics!
---
October 4, 2006
Today, I received the ultrasound performed on Mandy on July 25th, 2006 at 6 weeks. You can view the video footage
here
. Look for much of the same sort of thing as in Storm's ultrasound video. I didn't take the time to highlight the heartbeat in this video but it's there.
---
September 7, 2006
Just a quick update to mention that we have decided to allow personal items other than miniatures to be listed on the sale board. We have put a couple of items on there already. I hope that you all find the sale board useful. Please use it!! And,it's free.... Drop me a line if you have problems using any of the features.
---
July 25, 2006
Found out today that "Mandy" (Wonder Horses Apache's Lil Squaw) is pregnant. She was bred to "Zeek" (Galloping G Ezekiel) owned by David & Jackie Hooks of Little Wonder Horse Farm on June 15th, 2006. I do not have an ultrasound movie..... yet.

I will see about getting a copy of that one from Angela at Bridle Creek Veterinary Clinic.
---
June 14, 2006
STORM'S A BREWIN!! Angela Stanaway was here today to palpate Storm. Turns out Jack and Storm got it right on the first try! Angela also performed an ultrasound and it can be viewed here. If you look real close, you can see the fetal heartbeat. It appears to the left of center in the video as a pencil eraser sized circle that seems to flicker. I added a green highlight to help locate it. Pretty cool! The video is about 1.5 mb in size and requires Windows Media Player to view. Congratulations Jack and Storm!
---
June 5, 2006
Added the annoying flashing logo on the right today to promote our new Sale Board. For now, we are only permitting users to post Minis for sale. Time will tell wether or not we allow the board to grow into other sale items. I do promise not to keep the flashing logo too long. I will probably add a permanent link to the top of the site soon.
---